LG Video Wall Delhi
What is VIDEO WALL ?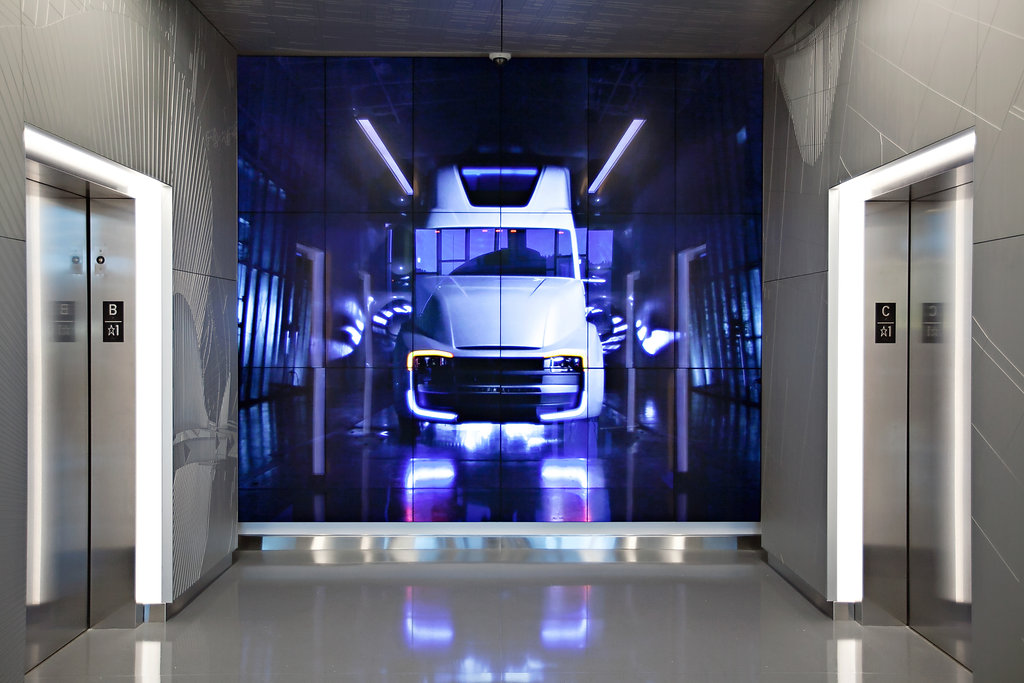 A video wall is any large electronic display of an image or images being displayed in a presentation format. Typically multiple display devices are tiled together as close as possible in a matrix to create a single logical screen (The Video Wall). Then with special Video Processor devices, an image is scaled across the logical screen or multiple images are spread out over the logical screen or a combination of both in the case of picture in picture. This is all without respect for the individual display devices physical boundaries.
Advantages of LCD Video Wall:-
♦ Reliable quality and low maintenance: Less thermal diffusivity makes the components and parts more stable.
♦ High Definition and clear image: High brightness and contrast make colors brilliant and bright, as well as stable and clear image.
♦ Wide viewing angle: DID LCD panel makes the viewing angle up to 180°.
♦ Low power consumption and low heat radiation
♦ Long service life lowers the cost of usage and maintenance
♦ Innovative and advanced: 42" to 60" Ultra thin LCD
♦ Ultathin and light weighted: The ultra thin and light weighted design makes it easy to transport and install.
♦ Economic al and practical: High performance and high quality make it cost less.
Why do you need Video Wall?
Reasons for using a video wall instead of a single large screen can include the ability to customize tile layouts, greater screen area per unit cost, and greater pixel density per unit cost, due to the economics of manufacturing single screens which are unusual in shape, size, or resolution.
Video walls are sometimes found in control rooms, stadiums, and other large public venues.

The reason for creating large logical displays in this fashion is that you can assemble a single logical display area that is brighter, larger, higher resolution and has inherent redundancy unlike any other method of image display.
The human brain has the ability through your eyes to see and comprehend multiple changing messages through images all happening in real time by scanning each image in some rotation. It is for this reason that video walls can uniquely present many pieces of information to multiple people at the same time in the same place.
LG Video Wall Dealer in Delhi, LG Commercial Displays Dealer in Delhi, Display Dealer in Delhi, LG Video Wall Panel in Delhi, LG Plasma Displays in Delhi, LG Authorised Distributor Delhi, LG Large Format Displays Dealer in Delhi, LG LFD Authorised Distributor in Delhi, LG Professional Display TV Dealer in Delhi, LG Professional Display Price Dealer in Delhi, LG LFD Monitor Price in Delhi, LG Digital Signage Dealer in Delhi, LG OLED TV Dealer in Delhi , LG Stretch Display Dealer in Delhi , LG Curve Monitors Dealer in Delhi , LG Indoor LED Signage Dealer in Delhi , LG Outdoor LED Signage Dealer in Delhi, LG Panels Dealer in Delhi, LG Super sign TVs Dealer in Delhi, LG Ultra HD Large Multi Touch Display Dealer in DelhiAll Professional LG Commercial displays Series are available at dealer price ready stock. Call for best prices now.